Miss Marie farting in the bathroom
Here we are again and this time we came with a kinky one. Let me introduce you miss Marie and her fart scene. The sizzling redhead here went to the bathroom this morning and took her camera with her just to tape herself while she is blasting some smelly farts. I'm sure this is exactly what you were looking for, so sit back there and watch her in  some fartfantasy action. Marie will get naked and will fart, blasting the most un-ladylike stinky ones into the bowl. Don't miss her performing.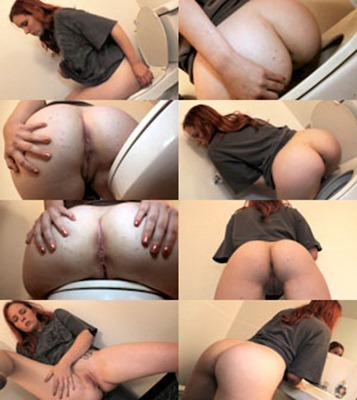 As you can guess, the babe here was a little gassy this morning. Marie here started her session with a big one. After she pulled up her T-shirt, the kinky babe gave some stinky ones and she taped herself just for your viewing delight. Watch her spreading her buttocks with the palms and showing her hole to the camera while farting. She sure has a nice round ass and will show it to the camera. Enjoy her going naughty and see how she spreads her legs for you in front of the camera. Also, check out here Samantha and Tanya in a hot video during their farting competition.